Smart Door Lock Service
How do I know which smart lock to choose for my door?
So, you want to replace your door locks, get our professional smart door lock service. Choosing the right smart door locks for your new door is an extremely important process, and one that requires some time and thought. Most homeowners conduct their own research. They, also consult professional locksmiths to try and find which locks are the best fit for the doors they have.
We suggest that homeowners use ANSI (American National Standards Institute) Grade 1 Locks on the exterior doors of their homes. The grading is important because it gives you some insight into how strong your deadbolt is.
These locks should ideally be deadbolt locks because they are a much better security option. Grade 1 deadbolt locks should be able to withstand 250,000 cycles and 10 strikes against the door. Their counterparts, the doorknob locks, should also be able to withstand 800,000 cycles, 6 strikes against the door, and a weight test of 360 pounds.
We suggest Grade 1 locks because they offer more resistance to intruders and they have longer lifespans than other grade locks. If you need help trying to determine which locks will work for your door, and for other parts of your home, do not hesitate to give us a call so we can go over the options for your new lock installation.
Will installing a new lock damage my door?
If your new lock installation is carried out by a professional home locksmith, then there will be no damage caused to your door. Our locksmith will have to drill the necessary holes in your door so that they can continue with the new lock installation, but this should not damage your door.
It is important to make sure that your new lock installation is carried out by a professional because there are many parts of the installation process that could lead to a damaged door if it is not carried out properly. The only way your door will be damaged while a new lock is being installed is if a subpar locksmith is carrying out the task.
How long will the new lock installation take?
The time needed for a new smart door lock service varies. This is because the time is dependent on a few factors. First, it depends on what material your door is made out of (which the locksmith should be notified of in advance) because the time varies for installing a lock on a steel door as compared to a wooden door.
Most residential properties use wooden doors, but there are some exceptions. Secondly, the time will vary depending on whether or not the holes required for a new lock installation have already been drilled into your door. If they have not, it will take more time due to the fact that our locksmith will have to drill the necessary holes.
Also, the time might vary based on which locks the homeowner wants to install. Some homeowners might merely want to install a simple knob latch bolt lock, while some would prefer to install both a doorknob lock and a deadbolt to make their door as secure as possible. When done by a professional locksmith, your new lock installation should take no longer than 30 minutes.
Why do I need to go through a new lock installation process?
Homeowners should go through the new lock installation process because their homes are valuable assets and investments. As such they want to make sure that their homes are as secure as possible. Installing locks on new doors in your home is an essential part of making sure that your home is safe. Make sure that you discuss all your options with our locksmith so that you choose the right locks for the door you have. Proper locks will ensure that your security functions properly.
Lock Installation
Before our locksmith can even begin installing a new lock on your door, the most important part of this process needs to be carried out. That process is the choice of the right lock for your door. You may be wondering what exactly goes into choosing the right lock? Well, we're about to break it down for you.
Installing Your New Lock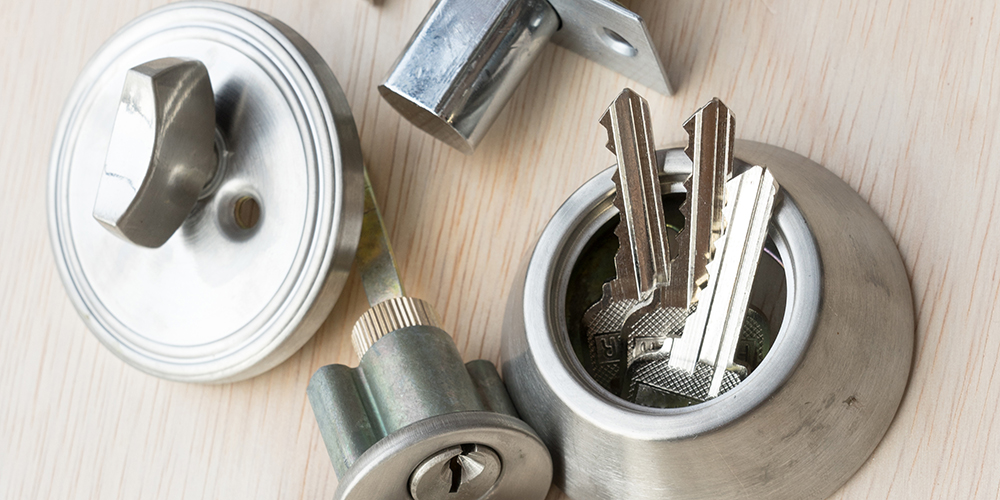 Once you have gotten the process of choosing the right lock out of the way, you can begin the new lock installation. Some doors will already have the necessary holes for the lock pre-drilled, but some won't. To properly drill the holes you need for your lock, you have to know the size of the lock you are going to be using. That way you can take the appropriate steps to make sure that the holes you drill in the door are not just random sized holes.
Some other services we provide … TV Mounting, HDTV Antenna Service, Video Doorbell Service, and Home Theater Service.
Brands we install… RING, NEST, WiseNet

FAQs
How much does it cost to mount a TV on a wall ?

The most basic of TV installations cost only $99. More complex installations could cost as much as $300.

Can you mount my TV over a fireplace ?

Absolutely, we can mount your TV over a fireplace.

Can my wires be concealed inside the wall ?

Yes, we can conceal your wires inside the wall. We'll make your TV look just like a picture on the wall.

How high should my TV be mounted is there a standard ?

Contrary to popular belief, your TV should be mounted to a height that suits your taste, and the room's decor.

I don't have an outlet where I want my TV installed, should I call an electrician first ?

No need, we can relocate an outlet to the height of your TV mounting.
Reviews
I called Tony at about 9am on a Friday to install 2 TV mounts. One on a brick wall and another on a complex mantle mount system above the fireplace. By 1:30pm the same day, he had installed both for a fair price. Do not miss this guy, he is the real deal.
Tony came on the same day I called and did a fantastic job! Very professional and explained all of the options to me. Great service!
Our installer B. Tony Glapion was spot on and very professional. I am very happy with the whole process and workmanship. We will be calling them out again to our home for more work. Thank you so much!
Called and they came out within the hour on a Saturday. Took no time at all to get it done. Our TV looks great, and not having to look at ugly wires is a huge plus! Can't recommend them enough!
Had a great experience. Timely responses to emails and scheduling was hassle free. Quick installation and end result looks awesome. Had an answer for all my needs and it ended up better than I expected.
Very professional service and explains everything in details 👍🏾
Tony did an amazing job installing our televisions and making everything look attractive. We are looking forward to him doing other things we did not know were even possible.
Great time management and manners. He made the process a breeze!!!!
Tony installed 3 tv's with sound bars and a whole house antenna. We couldn't be happier! His attention to detail and knowledge Of which products worked best for our home made the process smooth and hassle free. Do yourself a favor and trust this professional to get the job done right the first time.
came out to initially mount one tv and loved his work so we got all home tvs mounted and wires hidden. the work was very neat and professional, also bringing extra equipment needed!! will be using the installation experts for all services including camera installation.
Scheduled online and he showed up a bit early after calling ahead to make sure that was ok. Once here he took a look at the site inside & out, presented me a few options to be sure I would not be surprised at how the install would be done and he did the work quickly, efficiently, and safely. Would recommend and hire again if I have a need.
The installer came out on time and mounted my tv on the wall. Perfect job , I love my TV , it looks great on the wall
Tony came on short notice to mount 2 TV's and while on the job suggested and provided a solution for the unsightly wires. Very knowledgeable and professional.
Very professional guy!! Gave great suggestions! Clean crisp work! Very professional! Great Rates
Excellent, Professional Service. Highly Recommend!
The service is absolutely amazing!!! I was able to get a technician to come out the next day to mount my TV and he was so friendly and helpful. I would recommend these guys any day and if I need another TV mounted im calling them first!
The things I liked about Mr. Glapion is that he was very professional. He came in did his work, cleaned up and explained his process. Very professional. I will use him in the future and be sure to refer him out to my family and friends.. Great experience!
Tony is a great person that does great work. We have worked with him twice. Once for a fairly standard tv installation and another for a pretty custom router installation. Both turned out amazing. Please check out The Installation Experts any time you need quality work done around the house.
Easy installation. Thank you!!
Great job - excellent work
It had been my lifelong dream to construct a Home Theater and I called on Tony at The Installation Experts to get the job done.Right from the start, Tony was very accommodating to my schedule and always available to answer questions and give expert advice. Tony is very professional and is workmanship is top notch. I was very pleased with the final results and I will seek his expertise in the future should I need to complete another project.
About 2 weeks ago I had Tony wall mount, and install an electrical outlet to hide the wires behind a 50" tv in my bedroom to give it a clean flushed look. I called around mid day and was able to get a same day appointment later that evening at 5 pm. When he finished his appointment schedule prior to mine he called and asked if it was ok for him to come earlier to begin on my project and he arrived a hour early. After explaining to Tony what i wanted he put me at ease with his knowledge of the job. It was clear during the process that he is professional, knowledgeable and thorough on the job. I am pleased with his work and plan on calling him back to wall mount two more tv's and work on my surveillance system. I would definitely recommend him to install or mount your tv, audio, and/or surveillance system.
Great businessman and father. For +20 years he's had exceptional experience in setting up digital equipment for customer satisfaction. From the early 90's of giving sales and customer service for security systems, early flip phones, and even beepers, his versatility to evolve with the industry has kept people up to date with the growing culture. He's been a great reference for both old and modern questions, and now I'm ready to set up my life and "go digital."